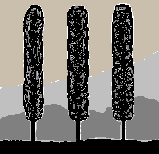 Canvas Replicas
888.284.9671 ~ Sales@CanvasReplicas.com ~ Riverton, UT
What is a rolled canvas vs. a stretched canvas?
You will often hear people refer to an oil painting as rolled or stretched. Below are some helpful definitions.
Stretched canvas
When an oil painting is framed it is first stretched over what are called stretcher bars. A stretcher bar is
a small wooden frame the canvas is stretched over and stapled to before it is placed in a frame.
An example of a stretcher bar
Rolled canvas

A rolled canvas is a painting which has not yet been stretched. Over 95% of our customers order rolled canvases. They do this
for several reasons. First, because of the cost of shipping and fuel it is much less expensive to have a canvas stretched locally.
Any frame shop or craft store will stretch a canvas. Second, when having a frame made for a painting you will receive a
much better fit with your painting if the framer also stretches the canvas. Third, as well as we package stretched paintings the
shippers handling our packages are not always careful. Often times with larger stretched paintings the canvas will loosen in
shipping and have to be restretched.
How much will stretching cost?
Any local frame shop or craft store that frames paintings will also be able to your stretch painting. For a 24 x 36
inch canvas you should expect to pay $25 - $50 for stretching. We recommend the national chain of Michaels
Crafts Stores. As part of Michaels weekly marketing they run a 40%-50% off coupon in the local newspapers which
includes stretching and framing services. Their price with this coupon is very inexpensive and they do a great job. You
can also find the Michaels framing coupons by clicking here to view Michaels Weekly Ad.
Does Canvas Replicas stretch paintings?
We will stretch paintings up to and including 20 x 24 inches. We will only ship stretched paintings inside the United States. As mentioned above, 95% of our customers prefer to have it done locally but we offer stretching to those who may not have a local
frame shop. You can obtain our prices for stretched canvases by emailing for our expanded price list..
Please spend some time roaming our other galleries.
Artist Galleries A - Cor
Artist Galleries Cou - H
Artist Galleries I - Re
Artist Galleries Ri - Z
Original Gallery Frame & Mirror Gallery Testimonials Home
How to Order Canvas Replicas Introduction Artist Biographies FAQ's
Canvas Replicas ships internationally to countries including Canada, Mexico, Japan, United Kingdom, France, Ireland, Spain, Portugal, Germany, Italy, Belgium, Norway, Denmark, The Netherlands, Sweden, Switzerland, Finland, Austria, New Zealand, Australia and South Africa.
All Rights Reserved to Canvas Replicas. 2002, 2003