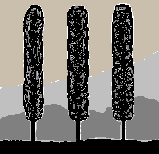 Canvas Replicas
888.284.9671 ~ Sales@CanvasReplicas.com ~ Riverton, UT
Rolled canvases & Stretched canvases
Canvas Replicas provides rolled or stretched canvases. For many people, this is the first time they have purchased an oil painting and may have heard those terms for the first time. Oil paintings are different than prints in many ways including the fact they are generally stretched on stretcher bars before they are placed in a frame. A stretcher bar is the thin wooden frame the canvas is stretcher around.
Rolled canvases
Rolled canvases are shipped to you in a tube. Most of our clients purchase rolled canvases for several reasons. First, almost every local frame shop will stretch a canvas and because of shipping costs it is generally less expensive to have a rolled canvas stretched locally then to have a stretched canvas shipped to you. Second, if you are having your painting framed locally, the framer will often discount the cost of stretching or even include it for free if you are having them frame your painting. Finally, when the framer stretches your canvas, they will stretch it to exactly fit the frame you have selected.
Stretched canvases
Stretched canvases are shipped to you packaged in a box. A rolled canvas is stretched around a thin wooden stretched bar to create a stretched canvas. Canvas Replicas provides stretching services if you do not have a local frame shop.
Stretcher bar
If you have questions with regards to ordering, please email us at Sales@CanvasReplicas.com or call 888.284.9671.
Please spend some time roaming our other galleries.
Artist Galleries A - F
Artist Galleries G - P
Artist Galleries Q - Z
Original Gallery Frame & Mirror Gallery Testimonials Home
How to Order Canvas Replicas Introduction Artist Biographies
All Rights Reserved to Canvas Replicas. 2002, 2003